Create Learning Modules
Control what your event staff learn with an intuitve and simple course creation module
Upload pre recorded you tube videos or powerpint slides (other formats are avaliable)
Manage the size and length of the module depending on the importance of the subject matter.
Video learning fully Supported
Video is the future of e-learning, users can play, pause,rewind and restart the video, to learn at their own pace.
Videos can be compressed for easy download on first install, and once completed deleted to save space on the app


Gamified Badge incentives
When life is all about competition make give your learning the competitive edge by gamifying your learning
Even the maturest of adults finds satisfaction in gaining lots of badges/ achievements
Badges are given as rewards for completing modules.
Boost engagement, completion and scores by applying gamification mechanics to learning activities
Track progress and reward winners
Fully Optimised for Mobile
Learning whereever and whenever you can is the key to truly effective e-learning. Your event staff will have busy lives, maybe other roles, they need to be able to learn on the train, in the coffee shop.
Mobiles are the best way of connecting and engaging your staff to thier e-learning content.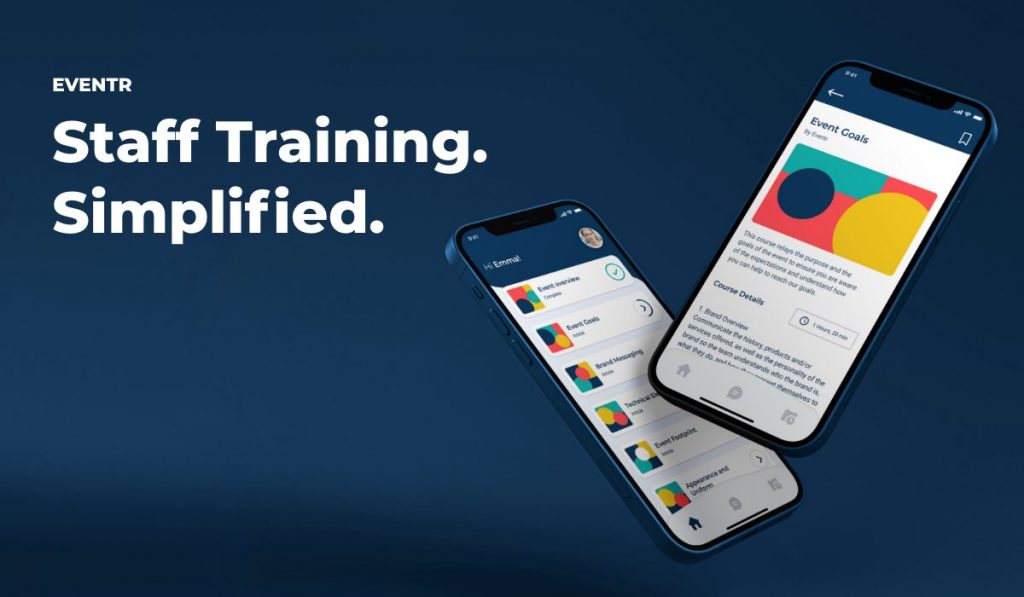 Set USERS up quickly and easily
Your team will change, very quickly at times and so you will need to add , remove and change permissions of people.
The user experience is simple and effective and yet secure so you can make changes quickly and easily.
Chat with the team
Communication is key, some questions and answers may useful for all the team to be aware of.
Get all the benefits of a chat application organised group chats, personal 1-2-1 chats, share photos and documents